Roofing & Gutters Direct
West Sussex's Leading
Roofing & Guttering Services
Welcome to Roofing and Gutters Direct, based in West Sussex. We are proud to have been providing roofing and guttering solutions to our valued customers for over 25 years. Whether you are looking for roof installation, roof repair, or guttering, we have you covered. With our experienced roofers, we guarantee you a high quality, durable and reliable roofing solution.
At Roofing and Gutters Direct, we understand that every roofing and guttering job is different and we ensure that each project is tailor-made to meet your exact requirements. Our expert team of roofers and guttering specialists are highly skilled in all aspects of roofing, from fascias, soffits & guttering, to roof leaks, re-tiling, tile-replacement, storm damage and a whole range of other services, so you can be sure that you are in good hands.
ROOFING SERVICES IN WEST SUSSEX
Dedicated To Providing
High Quality Workmanship
At Roofing & Gutters Direct, we are dedicated to providing high-quality workmanship for all of our roofing services. Our team of highly skilled and certified roofers has decades of collective experience in the roofing industry, and our commitment to excellence ensures that all of our roofing projects are completed to the highest standards. Our commitment to quality workmanship has earned us a reputation as one of the leading roofing contractors in West Sussex.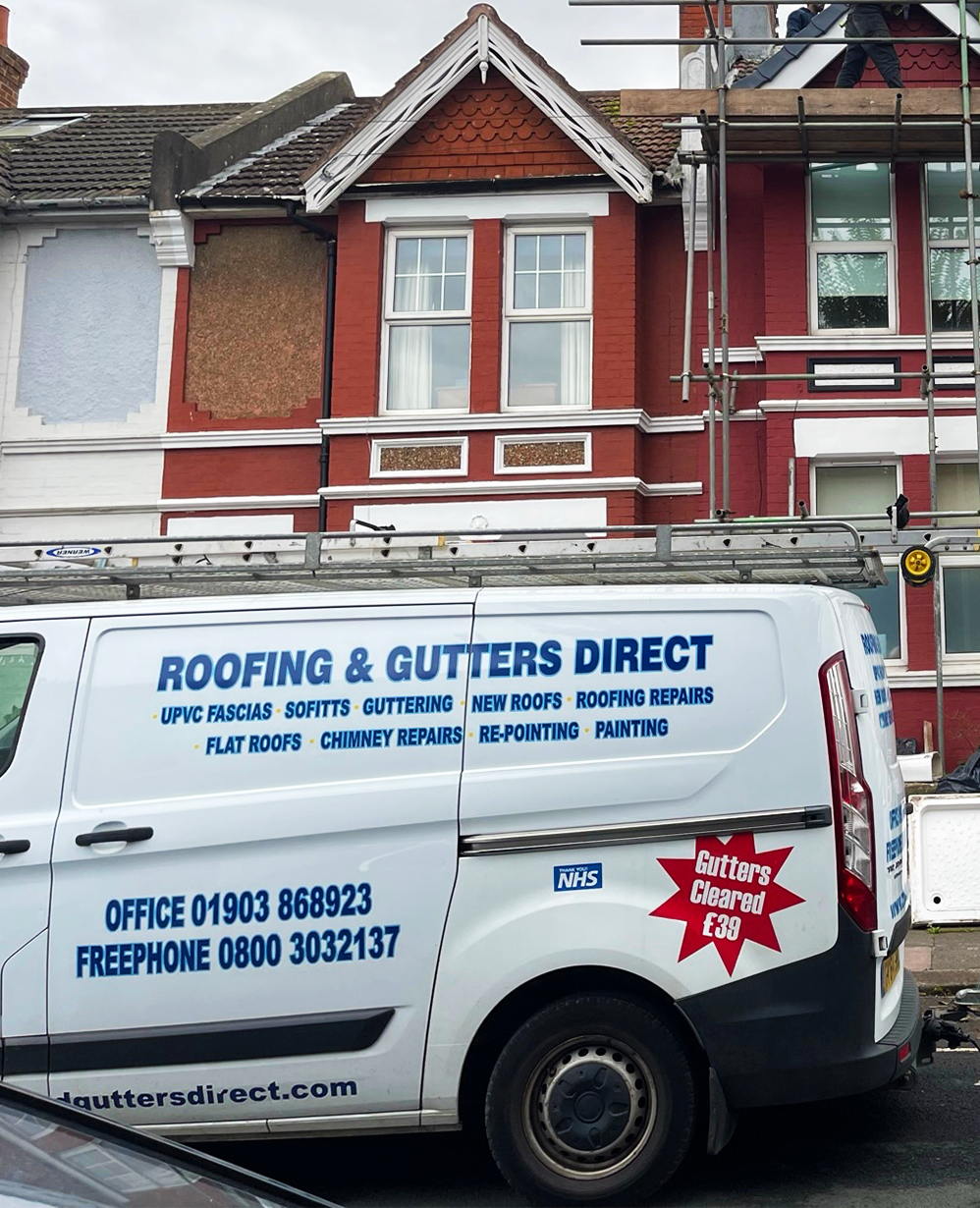 Roofing Projects
Done by the last 25 years
HIGH QUALITY ROOF REPAIRS
Reputable Roofing Repairs
Across West Sussex
Our roof repair services across West Sussex are second to none. We specialize in all types of roof repair and maintenance, including flat roof repair, tiled roof repair, and slate roof repair. Our experienced team of roofers can diagnose and repair any roofing issues quickly and efficiently, ensuring the highest quality of work. We also provide a wide range of preventative maintenance services to help keep your roof in great condition and avoid any potential problems. No matter what kind of roof repair you need, we are here to help and will provide a quality job at a competitive price.
The lifetime of a roof repair depends on the severity of the repair, the quality of materials used, and the level of craftsmanship employed, but most roof repairs should last 10-20 years.
The cost of roof repair varies depending on the size and scope of the project, but most repairs are relatively affordable. Repairs tend to be cheaper than complete roof replacements.
It's recommended to have your roof inspected at least once a year to check for any potential issues or damage that may need repair.
West Sussex's Roofing Experts
Contact our friendly team now for a
free, no-obligation quote.
GUTTERING ACROSS WEST SUSSEX
Gutter Clearance,
Repair & Replacement
Our team have been maintaining and replacing guttering systems across a wide range of commercial and residential properties over the past 25 years. With our knowledge and expertise, we can guide you to the correct solution for your home or business. Get in touch with our guttering specialists today to discuss your unique requirements.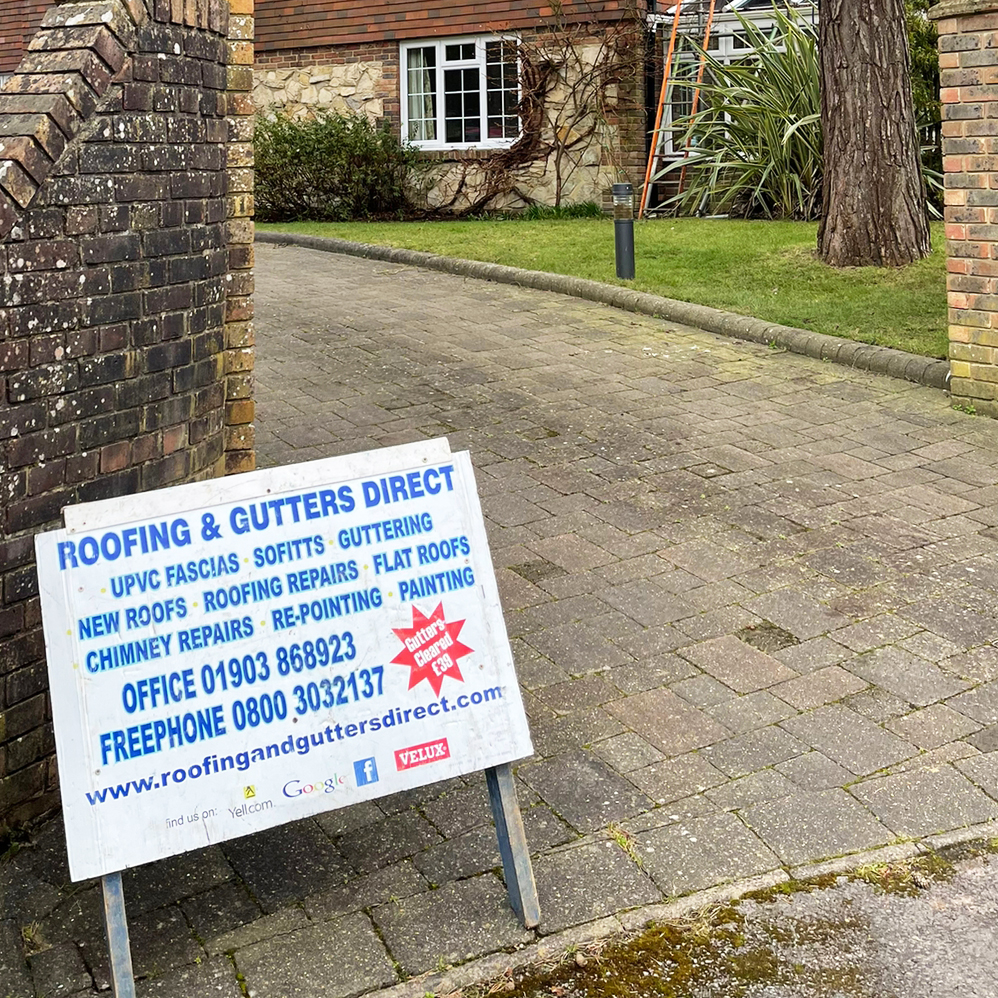 Roofing Projects
Done by the last 25 years
SKILLED & EXPERIENCED
Providing Reliable Roofing
Services For Over 25 Years
For over 25 years, Roofing and Gutters Direct has been proud to serve residential and commercial customers in West Sussex with all types of roofing services. Our team of experienced professionals are dedicated to providing our customers with the highest quality of workmanship and timely service, no matter what the project entails. We have extensive experience in a wide range of roofing projects, from complete roof replacements to repairs, and we are proud of our commitment to satisfying all of our customers' roofing needs.
We know that a successful roofing project takes more than just skill and knowledge. We make sure to take the time to understand your individual needs, so that we can provide the most effective and efficient solution for your particular situation. With our years of experience, we are confident in our ability to find the perfect solution for any roofing project. We also stand behind our work and offer a warranty on all of our services, so that you can rest assured that your investment is protected.
CERTIFIED & INSURED
Insured For Projects

Up To £5 Million
Roofing & Gutters Direct is an established roofing and gutter installation business based in West Sussex, offering over 20 years' experience in the roofing and gutter industry. We are fully insured up to an impressive 5 million pounds, giving you peace of mind that your property is covered in the event of any unforeseen circumstances.
We understand that choosing the right roofing and guttering company can be a difficult and potentially expensive decision, so it is important to ensure that the company you use is experienced and insured. Our experienced team are fully qualified to work on any roofing and guttering projects, be it a residential or commercial property.
With our full 5 million pound insurance cover, we provide you with a sense of security that your property is fully covered no matter what. We take care to ensure that all of our work is carried out in compliance with the relevant industry regulations, so you can rest assured you are in safe hands.
Trust West Sussex's
Roofing Experts
With over 25 years of experience serving the entirety of West Sussex, Roofing & Gutters Direct provide a full range of roofing and guttering to suit your every need. Get in touch with our friendly team today!
25 YEARS SERVING WEST SUSSEX
See What Our Valued
Customers Have To Say
Take a look at what our valued customers have had to say about our work over the past 25 years we've had the pleasure of roofing!
"This company did a good job for a fair price, they were punctual and i will be using them again for all my roofing works."
"To replace missing tile on back of house roof. Fixed within an hour at a reasonable price. Brilliant service"
"The guys arrived on time and cracked on with job (replacement guttering). They were helpful, friendly and professional, can highly recommend."
"Would highly recommend, the team were very punctual kept the job tidy could not fault them brilliant work"
Contact Our Team
Request A Callback